Valuable Sources Describing Peer-Reviewed and Accepted Methodology
for Evaluations Under "Sexually Violent Predator" Statutes
By John Tennison, MD July 7, 2012
The following references are the most useful published sources upon which I have relied for descriptions of the methodology of conducting evaluations under "Sexually Violent Predator" laws:
---
1. The American Journal of Psychiatry and the Law
Annotation: The American Journal of Psychiatry and the Law is a peer-reviewed journal, and is the most respected forensic psychiatry journal in existence. By virtue of being published monthly, this journal contains the most up-to-date thinking of any of the references in this list. There have been multiple articles in this journal which deal with methodology of evaluations under "Sexually Violent Predator" laws. However, I have found the following articles dealing with methodology to be necessary reading and among the most useful articles from this journal:
A. "Expert Testimony in Sexually Violent Predator Commitments: Conceptualizing Legal Standards of "Mental Disorder" and "Likely to Reoffend," by Shoba Sreenivasan, PhD, Linda E. Weinberger, PhD, and Thomas Garrick, MD, Journal of the American Academy of Psychiatry and the Law, Volume 31, pages 471–485, 2003.
Annotation: The abstract to this article states:

"The most recent type of civil commitment for dangerous sex offenders is found under the sexually violent predator laws. Forensic psychiatrists or psychologists must render an opinion as to whether the sex offender has a diagnosed mental disorder and, as such, represents a risk to public safety if released from custody into the community. Thus, expert testimony provided by these professionals has taken a central role in the commitment determinations. There is considerable debate as to what disorders predispose individuals to sexual recidivism and what the term "likely" signifies. In this article, the authors explore the debate in terms of whether Antisocial Personality Disorder is a qualifying diagnosed mental disorder for classification as a sexually violent predator and how a likely threshold of risk of sexual recidivism can be conceptualized."

B. "Antisocial Personality Disorder Is Not Enough: A Reply to Sreenivasan, Weinberger, and Garrick," by Jack Vognsen, PhD, and Amy Phenix, PhD, Journal of the American Academy of Psychiatry and the Law, Volume 32, pages 440–442, 2004.

Annotation: Amy Phenix, PhD, is one of the developers of the Static-99R, a very-popular actuarial instrument for general sexual recidivism. The abstract to this article states:

"This commentary seeks to extend the recent article by Sreenivasan et al., which supports the contention that case law history allows for the commitment of a sexually violent predator/sexually dangerous person (SVP/SDP) based on a diagnosis of antisocial personality disorder and absent a paraphilic condition. We argue that a clear sexual disorder must be present before a person can be found to be an SVP/SDP. A diagnosis of antisocial personality disorder is not enough."

Other important commentary from this article includes (on page 441):

"The offender who poses more of a diagnostic challenge for forensic experts is the antisocial person who takes what he wants when he pleases, not an uncommon scenario for those who rape. An example is the burglar with a history of raping women he encountered while in the pursuit of loot. However, such a person would still be only "a typical recidivist," and never an SVP/SDP, unless he took special pleasure in the aggressive taking of sex. In the latter scenario, an additional diagnosis of paraphilia is indicated."

and on page 442:
"In summary, careful consideration of the activities with which the forensic mental health expert is concerned indicates that a diagnosis of antisocial personality disorder alone is not enough to call for an SVP/SDP designation."
C. "Sexually Violent Predators: The Risky Enterprise of Risk Assessment," by Richard Rogers, PhD, & Rebecca Jackson, PhD, Journal of the American Academy of Psychiatry and the Law, Volume 33, Pages 523–528, 2005.
Annotation: One of the most important points made in this article is that the simple fact of sexual dangerousness is not enough to satisfy the definitions of statutorily-described conditions that must be present to be adjudicated as a "sexually violent predator" in Texas and many other jurisdictions. The article states on page 524:
"Dangerousness alone is insufficient."
D. "Use of DSM Paraphilia Diagnoses in Sexually Violent Predator Commitment Cases," by Michael B. First, MD, and R. L. Halon, PhD., Journal of the American Academy of Psychiatry and the Law, Volume 36, pages 443-454, 2008. This article contains the following "Figure 1" and its caption: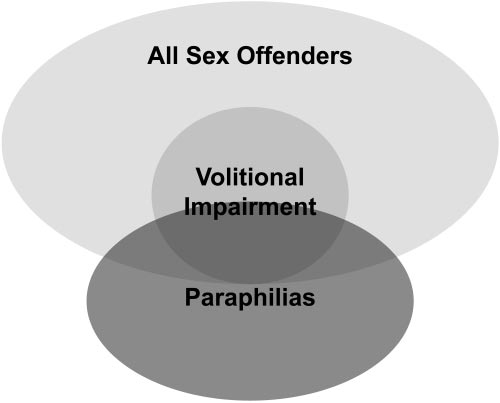 Figure 1. Relationship among all sexual offenders (light gray circle),
individuals with paraphilias (dark gray circle), and sex offenders with
volitional impairment (medium gray circle); intersection of all three
represents those most likely to be found to suffer from the mental
abnormality defined in the SVP laws. Note that the relative sizes of
the circles do not represent the actual proportions of sex offenders
with paraphilias or volitional impairment.
E. "Paraphilia NOS, Nonconsent: Not Ready for the Courtroom," by Allen Francis, MD, and Michael B. First, MD, Journal of the American Academy of Psychiatry and the Law, Volume 39, Number 4, Pages 555-561, 2011.
---
2. "Evaluation of Sexually Violent Predators," by Philip H. Witt, PhD, and Mary Alice Conroy, PhD, Oxford University Press, 2009.
---
3. "Fundamentals of Forensic Practice: Mental Health and Criminal Law," by Richard Rogers, PhD and Daniel W. Shuman, JD, New York Springer, 2005.
Annotation: This text is the recipient of the prestigious Guttmacher Award, which is awarded by the American Academy of Psychiatry and the Law for outstanding contributions to the field of forensic psychiatry. The following "Appendix H" appears on page 403 of this text and is intended by Rogers and Shuman to be used as a courtroom exhibit in "sexually violent predator" trials: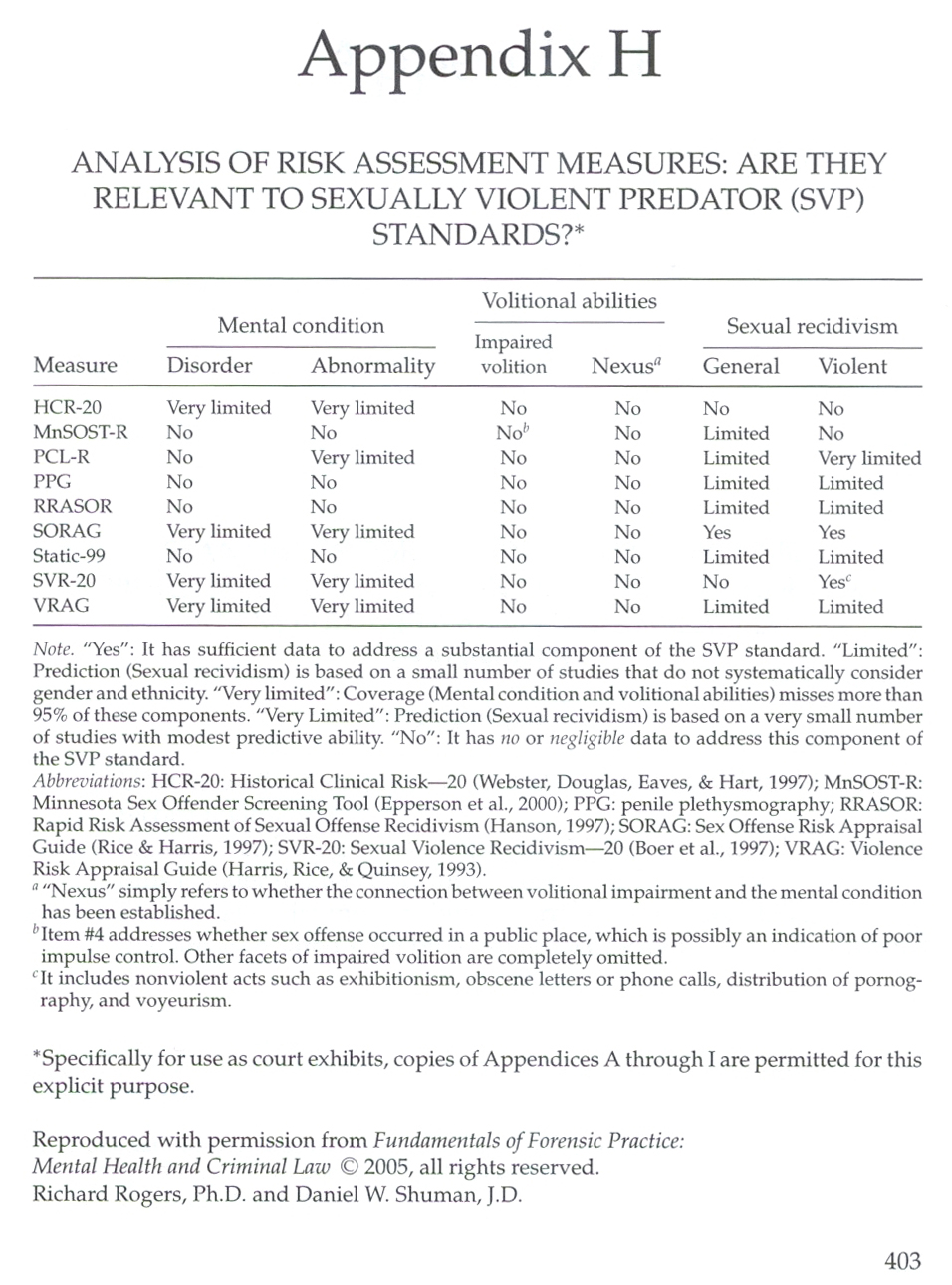 ---
4. "Evaluating Sex Offenders," by Dennis M. Doren, PhD, Sage Publications, 2002.
Annotation: Although Doren's text probably contributed to the misdiagnosis of paraphilias in many evaluations under "Sexually Violent Predator" laws, Doren nonetheless makes some good points in his highly-influential book. On pages 557-557 of the 2011 article by Francis and First (cited above) in the Journal of the American Academy of Psychiatry and the Law, Francis and First are extremely critical of Doren:
"Much has been made in legal settings of the wording of the opening sentence of the DSM-IV-TR paraphilia section. "The essential features of a paraphilia are recurrent, intense, sexually arousing fantasies, sexual urges, or behaviors generally involving 1) nonhuman objects, 2) the suffering or humiliation of oneself or one's partner, or 3) children or other nonconsenting persons" (Ref. 3, p 566). This sentence has been erroneously taken to be some kind of authoritative DSM-IV-TR definition of paraphilia and is then used to justify the diagnosis of a qualifying mental disorder called paraphilia NOS, nonconsent, under the mistaken assumption that the text implies that the DSM-IV-TR recognizes the existence of an arousal pattern focused on the nonconsenting nature of the sexual behaviors."
"In fact, it was never anticipated that the opening sentence of the section would be considered a forensic definition of paraphilia or be used in determining the suitability of long-term psychiatric incarcera-tion.6 It was meant instead as no more than a simple table of contents to summarize the specific types of paraphilias included in the DSM-IV, sorting them by deviant arousal pattern into convenient categories. "Nonhuman objects" referred to fetishism and transvestic fetishism; "suffering and humiliation" covered sadism and masochism; and "children and other nonconsenting persons" covered pedophilia, exhibitionism, voyeurism, and frotteurism, all of which happen to involve nonconsenting individuals."
"Doren provides the clearest and most influential illustration of mistaken interpretation of these sentences. Noting that "for whatever reasons, the DSM-IV failed to enumerate separately a paraphilia related to raping," he poses the question, "does this mean that DSM-IV totally omits such a condition?" (Ref. 5, p 65). Doren answers his own question with an authoritative-sounding "no," asserting that "the DSM-IV does include a paraphilia related to rape within its definitional paragraphs" (Ref. 5, p 65). After quoting the introductory sentence noted above, he concludes that "this set of phrases clearly relates to defining characteristics of voyeurism and exhibitionism" and "also define a type of 'nonconsent,' however, that pertains to raping as well" (Ref. 5, p 65)."
"As noted above, this was most certainly not our intention. The phrase was not at all meant to include rape and instead describes only the victims of exhibitionism, voyeurism, frotteurism, and pedophilia. In fact, it was the deliberate intent of DSM-IV to exclude any reference in DSM-IV to rape as a paraphilia. That is why rape is not listed under the various examples of paraphilia NOS and is not listed in the DSM-IV Index."
---
5. "Sex Offenders: Identification, Risk Assessment, Treatment, and Legal Issues," edited by Fabian M. Saleh, MD, Albert J. Grudzinskas, Jr., JD, John M. Bradford, MD, and Daniel J. Brodsky, LLB, Oxford University Press, 2009.
---
6. "Assessing Sex Offenders: Problems and Pitfalls," by Terence W. Campbell, Charles C Thomas Publisher, 2007.
---